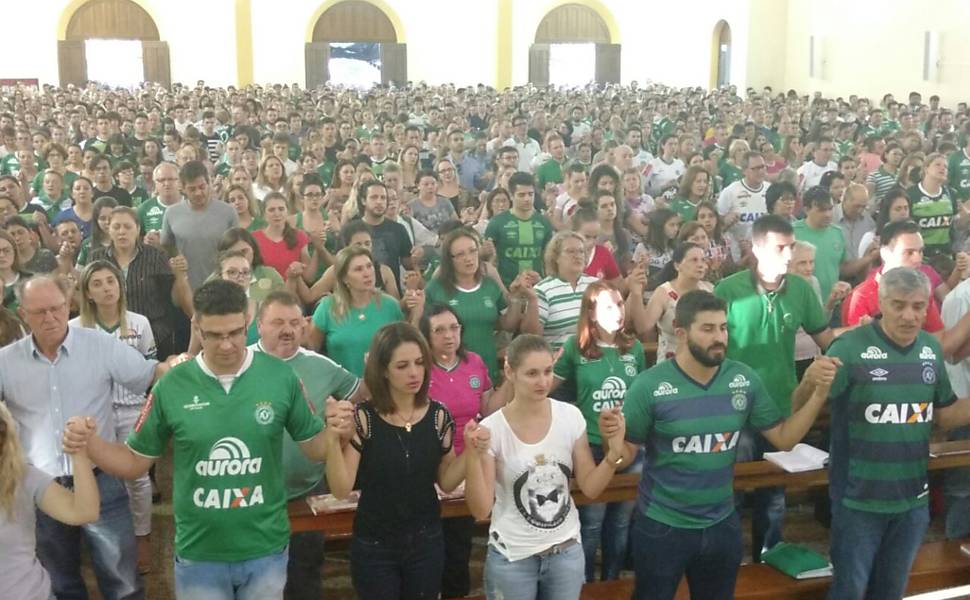 The St. Anthony cathedral in Chapecó (SC) was not large enough to receive so many fans of Chapecoense in mourning for the plane crash in Colombia that killed players and journalists.
Some of the faithful stayed out of the church at Mass on Tuesday night (29).
Most wear the shirt of the city's heart team.
The priest and parish priest, Igor Damo, commands the mass in honor of the team.
He is one of the most traditional fans of the team.
In the morning, he was in the dressing room of the Condá Arena to try to comfort the relatives who are concentrated in the space in search of news.
After the mass, which began at 6:45 pm, those present went on a march to the Condá Arena.
Throughout the day, fans gathered in the stadium, and placed candles and flowers at the entrance to the arena.
On several occasions, they sang the anthem of the team and prayed Our Father .
The governor of Santa Catarina, Raimundo Colombo (PSD), decreed official mourning for three days in the state - the city hall decreed 30 days in memory of the victims.